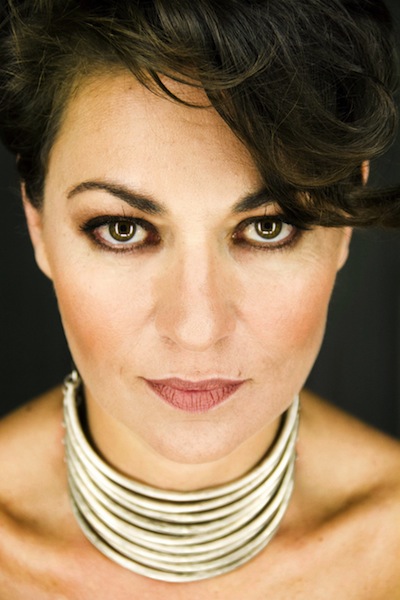 SILVIA CECCHETTI began studying opera under the guidance of Prof. Maria Grazia Liguori and Maestro Marco Balderi and then traditional Neapolitan Song with Maestro Gustavo Palumbo. She graduated from CET (Centro Europeo di Toscolano) as pop interpreter and had the opportunity to work side by side with great music professionals, such as Mogol, Lavezzi, Mango, Ornella Vanoni and Oscar Prudente.
Her successful participation in the Sanremo Festival in 94- she was among the top finalists in the "Young" category- brought her national attention and appearances on national television; in the same year she guest-starred in TV shows such as "Viva Napoli" and "Festival Italiano" and released her album "Silvia Cecchetti", produced by Lavezzi and Mogol. After Touring Italy, States and Canada, performing in theatres such as the Taj Mahal in Atlantic City and the Kodak Theatre in Los Angeles with Andrea Bocelli and Toto Cutugno she studied in Los Angeles with Maestro Seth Riggs.
In the following years she worked on a project dedicated to the history of 1900s Song with the "Opera Quintet", a quintet of exceptionally talented musicians members of the Orchestra of Teatro alla Scala. After yet another tour, she recorded an album "Tempi diversi", released in 2009, featuring famous Italian songs reinterpreted in a jazz key, arranged by Ricky DT and distributed by Edel Music.
In 2010 she worked with a group of Franch doctors and the Human Voice association offering her experience like singer and vocal coach and wrting the book "La voce dei 5 sensi" ed. Carish together with them in May 2011. In that book she has described a new vocal dimension that has the power of stimulate different celebral areas. She recorded a CD of "Voci pluridimensionali" with other musicians and singers.
She has been teached for years and in cooperation with Osteopaths, Postirologists, Acupuncturists, Anthroposophics she found a vocal methodology as a singer and vocal coach that respects the human beeing and the natural need for express himself.
In 2011 she put on the show "150 years of Italian tradition:from Melodramma to Pop" with Sandro Cerino and Romano Pucci singing her ability in Belcanto and Jazz styles.
In 2013 she remastered the album "Tempi diversi" writing and recording a new song "Il dopo te" – together with Luca Angelosanti and Francesco Morettini – for the American audience; she took part to the italian song festival in New York winning the second place.
In 2014 she won the first price at the same FESTIVAL ITALIAN SONG in New York.